Description
Specification
Product Dimensions: 42"W x 37.7"D x 42"H
Seat Dimensions: 22.4"W x 20.5"D
Seat Height: 20.8"
Expanded Length: 63"
Maximum Capacity: 350 lbs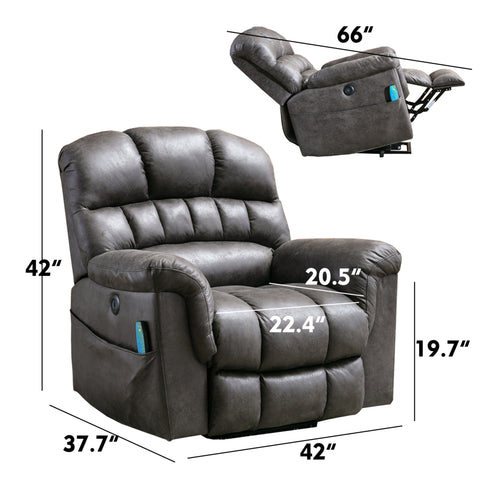 Stuffed Backrest:  Our comfort filled headrests ensure maximum relaxation and support to drive away stress & fatigue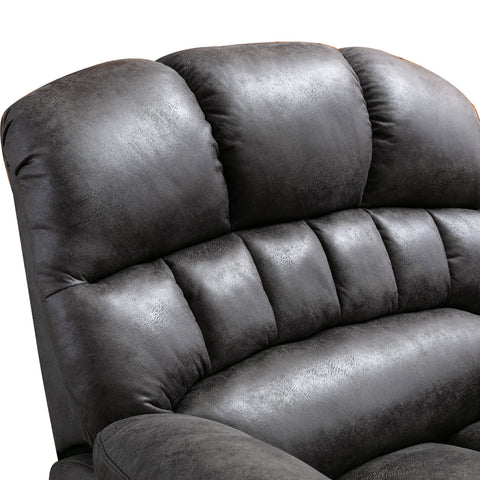 UL Approved Silent Lift Motor
: Our UL Certified chair-lift motors meet stringent safety requirements and guarantee smooth, silent operation.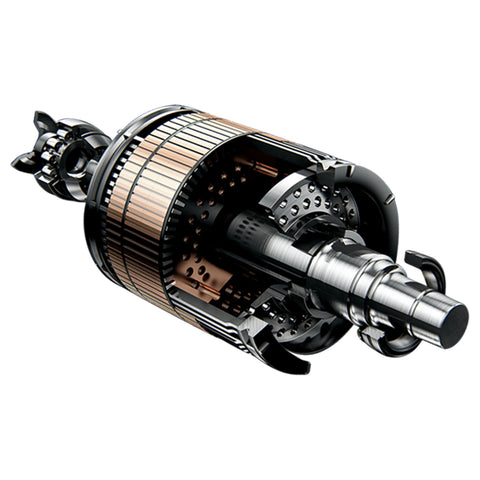 USB Charging Port: Extra USB charging port will allow you to charge your low power devices during you sitting or reclining.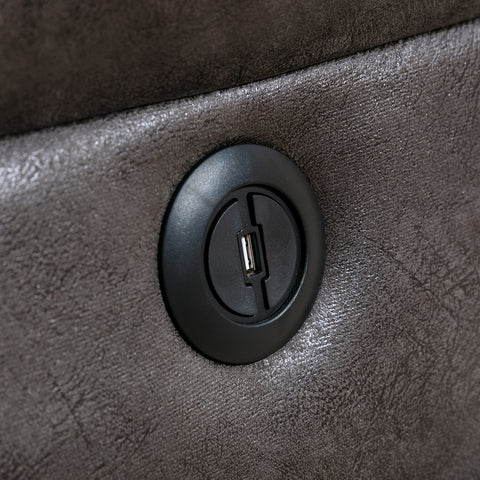 Power Lift Recliner Chair: You can press the side button to control the lift or recline of the recliner chair, which means you can get any position you want, whether it's reclining between 110-150 degrees or lifting. The lift chair is powered by electric motor mechanism to push the entire chair up, working smoothly and silently to help the elderly stand up easily. It's also ideal for people who have balance problems with legs or back, or who after surgery
Massage & Lumbar Heat Functions: It comes with 8 vibrating nodes (back, lumbar, thighs, legs) and 5 massage modes for selection, each massage point can be operated individually. There is timer function in 15/30/60 minutes which is convenient for you to set massaging time. Add a lumbar heat point to promote blood circulation throughout your body, providing a full body relaxation
USB Charge Port & Dual Side Pockets: With the help of USB charge port, you can keep your must-have device fully charged and close to you. Meanwhile, put small items or magazines into the side pockets you need. (Notes: The USB ports ONLY for low-power devices, such as iPhone, iPad.)
Oversized Lift Recliner Chair: This power lift chair is featured by extra large appearance, which make it an ideal choice for people in bigger size. Measure - 42"W x 37.7"D x 42"H, Seat Height - 20.8", Seat Dimensions - 22.4"W x 20.5"D. Weight Capacity: 350lbs. Tips: If you have any concerns regarding your health, consult your doctor before using the product.
Easy Assembly & Service: The large lift recliner comes with 2 boxes, we send out the boxes at the same time, but they may not arrive at the same time, please start installing after receiving all boxes. It takes only several steps to assemble this power lift chair and NO TOOLS. Bonzy provide free exchange for installation problems, damaged and missing parts with 1-year warranty guarantee, feel free to contact us for any purchase
Payment & Security
Your payment information is processed securely. We do not store credit card details nor have access to your credit card information.
Scam company
If you intend to never receive your product and never get anything but an automated response from their customer service department, then by all means go forward and purchase.
The chair is fine and big enough for 250 lbs guy.
Lift, backrest and footrest all moved without hesitation or laboring. The delivery is remarkable. I ordered Sunday morning and it was delivered Tuesday afternoon.
Great chair for the money
Well built and comfortable. I bought it for my husband who had back surgery. It was going to cost half of what i paid for the chair just to rent one for a month. I bought it based on the reviews and it was delivered a week earlier.
Very comfortable chair
I was concerned about purchasing a chair online without being able to sit in it first. I bought this for my 89 year old grandma and she loves it. It is very comfortable - wide and not squishy. Lift is great and she loves the massage.
Should not have ordered used
The left arm broke off within 2 weeks which doesn't surprise me since the box arrived in a terrible shape.